The Montoya Minute Week of 02.10.20
Appeals ya bish, Iowa can suck my caucus, Liberals defending billionaires, China harvesting 'Halal' organs, Amazon employees defy gag order, ICE shot a man in the face.
Appeals; they are not exactly what they sound like. It's not so much about what you find persuading, it's more about the intent of whoever is trying to persuade you. An appeal is: to make a serious or urgent request, typically to the public.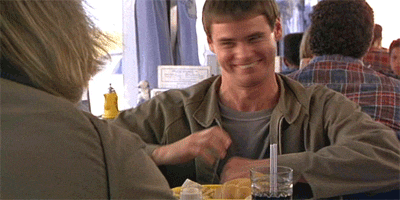 First of all, we need to remember that everything on TV, Film, and Social Media is marketing. And marketing is entirely made up of appeals because companies are trying to sell you stuff by conditioning your attitudes (about people, concepts, products, and services) by creating messaging that they think align with your values.
Best example: Artificial Intelligence. Notice how many robots pop up in commercials, how many new and exciting services and products can now learn and adapt. Little by little those associations make AI seem safe, like a part of the family. What these ads don't tell you is that AI is far from safe and it's very, very far from an exact science. (more about this soon)
The most important thing we should remember is that every appeal is an argument. It might not look like two people going back and fourth but every moment of everyday you're negotiating what you accept and what you don't.
In the news we tend to look out for the "Who, What, When, and Where?" BUT do we ever get a really solid "Why?" What we really want is the "Why" and the "How" —as in "How do I know this is claim/appeal is factual and fair?" and "Why are they telling the story in this way? And why should I trust it?" Once you start questioning why things are they way they are, your perspective starts to shift— that is of course, if you're informing your perspective with "the truth." The human perspective can just as easily be informed by lies and hate.
To really know how to argue well is a dangerous thing. Next week we'll talk about the specific types of appeals.
---
Election Sh*t
This shit is IMPORTANT
Ya'll… It almost feels like an exaggeration or paranoia to keep having to say the DNC is directing and/or throwing this election— but they are. If you have eyes and ears and a shred of common sense you can see what's going on. Sometimes I really can't even believe it. It goes against civic values I was raised with, it goes against the American Dream I was sure was so real. 2016-2020 has really eroded the last bit of respect I had for the idea of what we stood for as a country. Like, I know none of it was ever really real, but I used to have hope that it did.
Tara McGowan is denying that her high-profile liberal firm ACRONYM played a role in the Monday evening caucus debacle, claiming that her firm was merely an investor in the company Shadow Inc., which developed the app at the center of the controversy. But internal company documents, a source close to the firms, and public records show a close and intertwined relationship between Acronym and Shadow.

In addition, ahead of the caucuses, questions swirled inside Shadow over the company's ability to deliver a quality product, and there was concern from at least one staff member that senior leaders of Shadow and Acronym — both of which were launched as a new Democratic bulwark against President Donald Trump — have been far from neutral in the Democratic primary…

McGowan is married to Michael Halle, a senior strategist with the Buttigieg campaign. There is no evidence any preference of candidates had any effect on the coding issue that is stalling the Iowa results.
And did anyone else find it pretty interesting that Buttigieg announced he had won before they had even finished counting?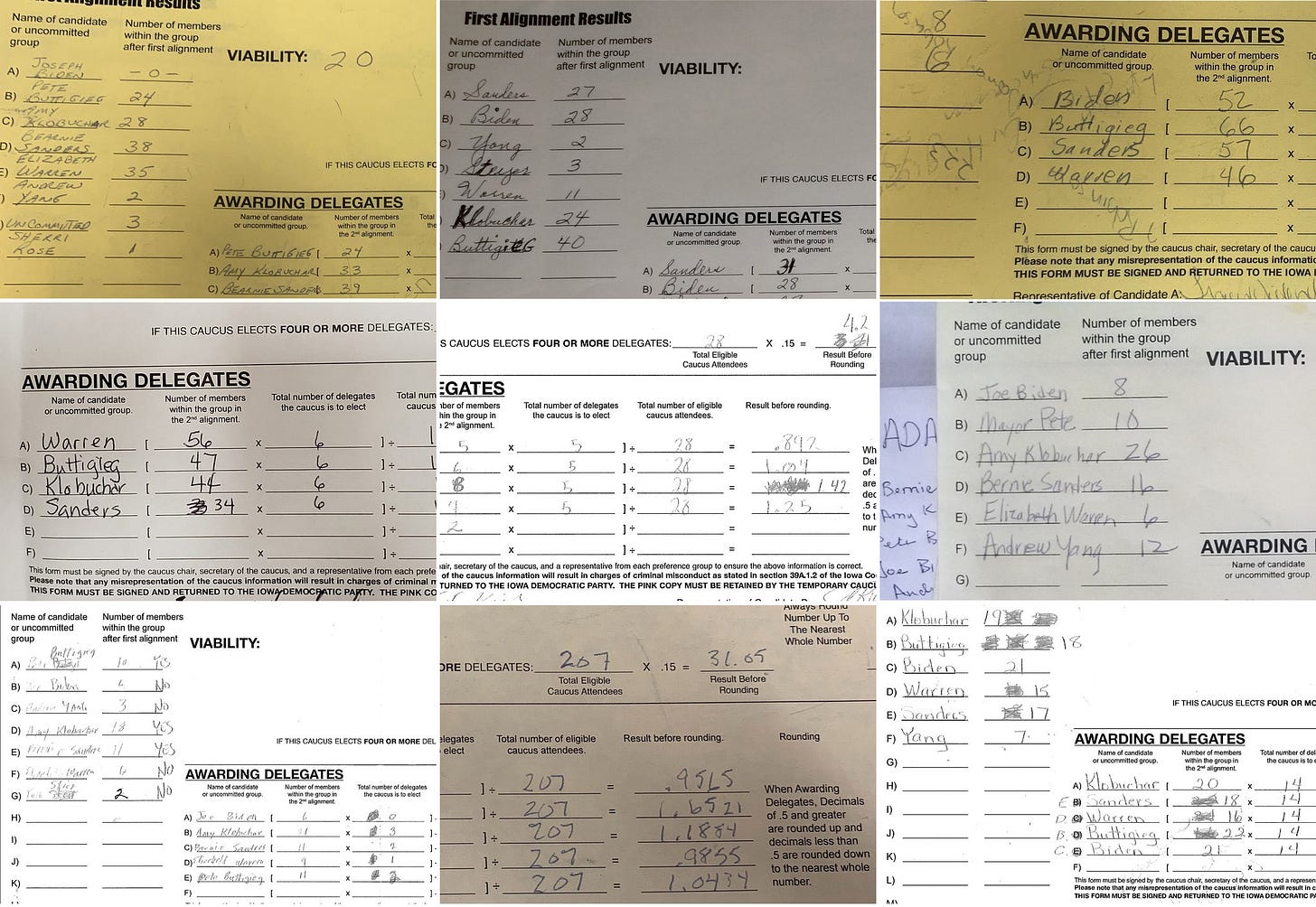 [I'll let you read the article for all of the dirty details as to how people in 2020 ended up voting and tallying numbers on pieces of paper]
They could have used a google form or a typeform. Shieet they could have done a poll on IG that would have been more effective. It's really not that hard to encrypt a form that is just collecting data points. Not to mention it's obvious that instead of trying to appeal to Black, Brown and disenfranchised voters— they've sided with trying to appeal to moderate Republicans. In fact one of Amy Klobuchar's talking points is that she appeals to moderate Republicans. IT'S A TERRIBLE PLAN. And they're basically admitting what MLK said all along about white Moderates. Cuz let's be real Centrists and Moderate Republicans have most of the same values and goals. Which happen to be at odds with progressives and people of color. It explains the DNC's approach for 2020, their appeals, who they support, and how they are pretty much acting like bumbling fools when what we really need is leadership.
And then there is this. The exclusion of the people with the most to lose. We look at Dems like they are the opposite of Republicans, but they aren't. I really don't know what weight, if any, terms like Democrat and Republican really have at this point.
Iowans are barred from voting for life once they commit a felony, and people can't vote even if they committed a crime decades ago. The state's policy, one of the strictest in the country, means more than 42,000 Iowans out of prison won't have a say in choosing a presidential candidate. Almost 10% of the black voting-age population can't vote because of a felony conviction…

A few miles north, Gretchen Brown-Waech was getting ready for a historic caucus designed to serve another community often sidelined in the political dialogue: the 300,000 voting-age Iowans with disabilities.

For decades the population has struggled to take part in the caucuses, which requires Iowans to physically show up at a location and spend hours choosing a candidate. Brown-Waech, who is deaf, first tried to caucus in the 1990s, but when people started talking over each other, she found it overwhelming and left early. She didn't try again until 2016 with the help of a friend because she felt the choice was so important.

"Anytime anyone who is not part of the mainstream is shut out of the political process, our country loses," said Brown-Waech. "If we don't design something for people on the margins, someone will always be left out."…

"The very people who need their voices heard the most in our democratic system are facing all these barriers. They're often the populations that are going to be directly threatened or bolstered by the policies that get implemented," Smith said.
These are "liberals" on MSNBC Defending Billionaires
Language Look:"going back to this idea of don't take money from Billionaires. I think the challange with the democrats is there are plenty of Billionaires aligned with this whole proposal of what America should look like"
First of all no there aren't. They're saying that Democrats talking about making billionaires pay taxes is somehow ineffective because apparently Americans wake up everyday and say "I want me or my kid to be rich." But the fact here is this— ready for it— you will never be a billionaire or even a millionaire! And taxing Billionaires wont make you less wealthy in the same way aspiring to be a wealthy person won't make you more wealthy. So they are criticizing the DNC's ability to sell a dream, because aspire all you want, if we don't have legislation in place to foster the economic empowerment of the poor and middle class we will forever be hoping and praying for wealth that will never ever arrive.
Language Look: "This is what people forget about, Democrats blow this sometimes particularly with voters of color, is not coming across as aspirational. Corey Booker and Tom Stire have been the only two people on this debate stage that have gone wait a minute people want to make money."
Ok first of all Corey Booker and whoever that other guy is had shit numbers. Secondly, so you're saying the best way to appeal to POC's aspirational tendencies is to lie to them? How does this help us build wealth if the legislation doesn't back it up?
Language Look: When you think of Billionaires in America, at least when I think of them I think of Bill Gates, Jeff Bezos I think of people who have made a huge fortune making our lives better."
They made a huge fortune in part because they can 1. externalize costs by paying bare minimum wages for exploitative work or take advantage of environmental loopholes either here or abroad. 2. they take advantage of tax loop holes. 3. they lobby for loopholes that benefit them with zero regard for the greater good. Every Billionaire is a policy failure build on exploitation. Amazon is probably the most evil company of all. You can go back through the weeks on here to see some of the stuff they've done.
Hasan Minhaj Breaks it down perfectly here.
---
World News
All of the world news is depressing af. Look at this hamster eating a carrot.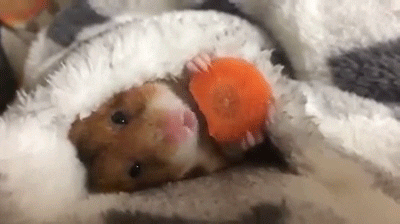 *Halal: translates to Permissible in Arabic. adheres to Islamic law, as defined in the Koran. The Islamic form of slaughtering animals or poultry, dhabiha, involves killing through a cut to the jugular vein, carotid artery and windpipe. Animals must be alive and healthy at the time of slaughter and all blood is drained from the carcass.
**Haram: Translates to forbidden in Arabic."sinful action that is forbidden to be done". Ex. Pork is Haram.
This is one of the most fundamentally sick and most disturbing crimes against humanity of our lifetimes and that says a lot.
Saudi Nationals are paying top dollar to have China's Uyghur Muslim population murdered for parts. They're calling them Halal Organs. First of all, Islam WOULD NEVER condone this!!! It started with prisoners, now they've taken blood samples from the entire population and when there is a match with a prospective organ buyer that person's organs are removed while they are still alive.
The demand for Uyghur organs outweighs supply, according to Tohti, and thus explains the motive of the Chinese Communist Party (CCP) authorities in Xinjiang in implementing compulsory blood sample collection from Uyghur Muslims, with the objective being to create a "live organ-matching database"…

In November, a report published in the journal BMC Medical Ethics reveals an effort by Beijing to cover up its harvesting of body parts from Uyghur Muslim detainees by falsifying its organ donation data. It suggests that more than 90,000 Muslims and other political prisoners are being executed each year for the purpose of profiting from the sale of their live organs.

The European Parliament's public health committee and human rights subcommittee say that illegally harvested kidneys fetch as much as €150,000 ($165,000) each, while UK law-makers have warned citizens desperate for transplant operations that they could be unknowingly "playing a role in the profiteering of atrocities against inmates in the Communist Government's network of prisons and detention camps".

We are now left with a single salient question: if the killing of Muslim detainees for profit isn't enough to compel the international community to act, then what will?
Ya'll British people really thought… the people who colonized half the world, murdered millions, committed countless genocides, engaged in biological warfare, destroyed cultures and ecosystems think they did us a favor. I love that Andrews said what he fuckin said. You can Follow Kehinde Andrews on Twitter here.
Andrews made the comment after the white panelists tried to convince him and the other Black panelist that the British Empire "wasn't all bad."

"The way we remember this history is so bad, that we actually think we can find comfort in this system which killed tens of millions, probably hundreds of millions of people, rape, murder, torture, famine," Andrews said.

"Whiteness is a psychosis — you can't have a reasonable explanation."

Andrews' bold statement unleashed a downpour of white tears from co-panelists Piers Morgan and Susanna Reid, who accused him of being a racist. Their critiques didn't deter him.

"Whiteness is not just for white people. There are black people, Asian people, who also purport the psychosis of whiteness," Andrews continued.

"It's about the idea," he added. "It's about the fact that in the 21st century, 60% of British people believe that empire was a force for good. That's like saying the Nazis built motorways, so we should celebrate them. It's literally an irrational view."
Palestine belongs to Palestine.
Israeli forces shot and killed a 17-year-old Palestinian during clashes with demonstrators in the West Bank on Wednesday, the first death since tensions rose following the release of U.S. President Donald Trump's Mideast plan, according to Palestinian officials…

The Palestinians have roundly rejected Trump's Mideast proposal, which offers them limited self-rule in scattered chunks of territory with a capital on the outskirts of Jerusalem while allowing Israel to annex large parts of the West Bank.

Protesters have burned U.S. and Israeli flags as well as posters of Trump and Israeli Prime Minister Benjamin Netanyahu. Stones and firebombs have been hurled at Israeli troops, with one exploding and lightly wounding a soldier. The Israeli military has instructed troops to "contain" the protests and not respond forcefully, concerned that Palestinian casualties would set off further violence.
Ok you made it. Look at this otter cuddling her pup. And then share so people can know about what's happening.
---
Sh*t You Need To Know
More than 360 employees had enough backbone and disagreed enough with a company gag order to commit acts of open defiance.

At the risk of losing their jobs, the tech workers issued statements Sunday. The statements were followed by a video on Monday protesting Amazon's gag order as well as its massive carbon footprint and partnerships with fossil fuel companies.

"We are speaking up now because some of us were disciplined by Amazon for providing a quote to the Washington Post where we state that Amazon should stop helping oil and gas companies find and extract oil more quickly," the video states.
We need to remember that around half of US troops are Latinx and POC.
The 2019 survey found that 36% of troops who responded have seen evidence of white supremacist and racist ideologies in the military, a significant rise from the year before, when only 22% — about 1 in 5 — reported the same in the 2018 poll.

Enlisted members were more likely than officers to witness the extremist views (37% to 27%). Minorities were significantly more likely to report cases of racist behavior than whites (53% to 30%).

Overall, troops who responded to the poll cited white nationalists as a greater national security threat than both domestic terrorism with a connection to Islam, as well as immigration.
The modern day SS strikes again. They're hunting people down and doing whatever they want with them. What does it mean if interfering with an unjust practice means it's ok for you to be shot in the face?
Thanks everyone! If you liked this week's info please like and share! See you next week!